Donating through the PayPal app directly:
Send your donation to the address listed below.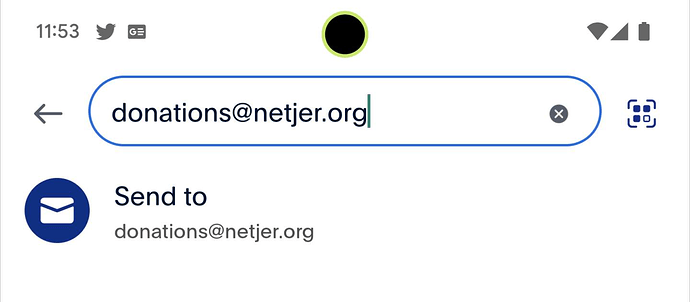 All donations will be used for the area of greatest need unless otherwise earmarked.
A printable mail-in donation form can be found here: DonationForm.pdf (144.1 KB)
The House of Netjer Kemetic Orthodox Temple is legally registered with and recognized by the Internal Revenue Service of the United States as a 501(c)3 nonprofit religious organization. You can check our status with the IRS at their official website using the name House of Netjer. As a nonprofit, we rely completely on the generosity of people both inside and outside the religion for all of our financial support. All donations to the temple are tax-deductible in the United States of America, and in other countries to the fullest extent of the law.
Our Financials
It's important to know where your money is going and how it's being spent. Our current financial reports can be found here .
Helping Tawy
Helping Tawy is our current fundraising website for the House of Netjer fundraising. It's geared toward special fundraising events and ongoing support. Please visit us at https://www.helpingtawy.com/.
Amazon Smile
You can also make donations through Amazon's shopping app. Specify "House of Netjer" via Amazon Smile, in the app. This can also be done at the Amazon site itself if you work on a desktop.
Donating to the House of Netjer
All free-will donations to the House of Netjer Kemetic Orthodox Temple are tax-deductible to the fullest extent of the law.
Donations of any amount are always welcome. Unless specifically earmarked, donations are applied to the areas of our greatest needs. Donations are used to fund our charitable and religious activities as outlined below.
Shomu Mailing List
As thanks for donating $5 or more to the House of Netjer, you may ask to be added to our Shomu Mailing List. There you will receive daily calendar emails with materials from the Ancient Egyptian Daybook as well as periodic hymns, prayers, and other tidbits provided by Hemet (AUS). If you have donated at least $5 or more in this calendar year and would like to join the mailing list, please contact us and ask to be added.
How our donations are used
General/Regular Expenses
The first $600 we receive in donations every month goes toward general House of Netjer and minor Tawy House expenses. Donations for general expenses go toward House of Netjer overhead including bank accounts, domain maintenance, server space, chat rooms, software, etc. Minor Tawy House expenses include lawn service fees and other small costs as we await the sale of Tawy House (the gas and water are currently shut off at Tawy, and the electric bills are being covered by a stock donation).
Ministerial Services Contract
The next $2,000.00 goes towards our Nisut's salary. The founder of Kemetic Orthodoxy and our religious leader, Rev. Dr. Tamara Siuda, is supported by donations that we receive after the General House of Netjer expenses are covered. This satisfies the obligation to the Ministerial Services Contract, which supports her to work three 8 hour days per week, and compensates her for her services. These tasks include, but are not limited to, counseling, teaching (spiritual and historical), rituals (lead them as well as translate ancient rituals), etc.
Rollover Fund (savings)
Anything over and above the total of the first $2,600.00 will go to a Rollover Fund, which helps us cover shortfalls on months when donations fall below our goal.
Thank You!
Any donation, however large or small, is welcome! Nonprofit organizations, and especially religious organizations, depend entirely on the generosity of members and friends to survive. We give thanks for all the support we have received from individuals and corporations in the past, and look forward to thanking you for more support of our events and offerings in the future. As it is said in the ancient tongue, Dua-Netjer enten – we thank Netjer for you!